SOUND TAGGING
INSTITUTE for APPLIED PUBLIC SPACE RESEARCH - SOUND DEPARTMENT
Series of tags as stickers, stencils, stamps and signs

SOUND TAG
Sticker edition: 100 x 33 mm, black on silver adhesive foil
I spread them out at public places since July 2012.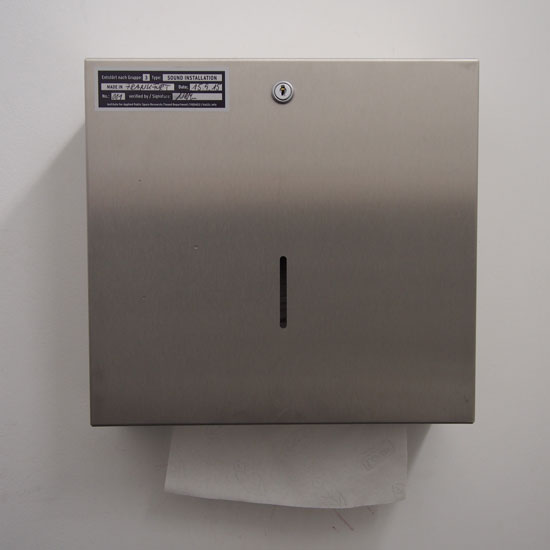 Sound Installation made by Verena Schmidt
15.09.2015, Frankfurt am Main, Museum, Germany
INSTRUCTION on the backside of the stickers:
AUFKLEBEN − DATIEREN − SIGNIEREN
Bitte kleben Sie dieses Typenschild auf einen Gegenstand Ihrer Wahl.
Markieren Sie eine reale oder imaginäre Klangsituation.
Dokumentationsfoto bitte an das Institut senden.
STICK IT − DATE IT − SIGN IT
Please stick this type plate on an object of your choice.
Mark a real or imaginary sound situation.
Please send a documentary photograph to the Institute.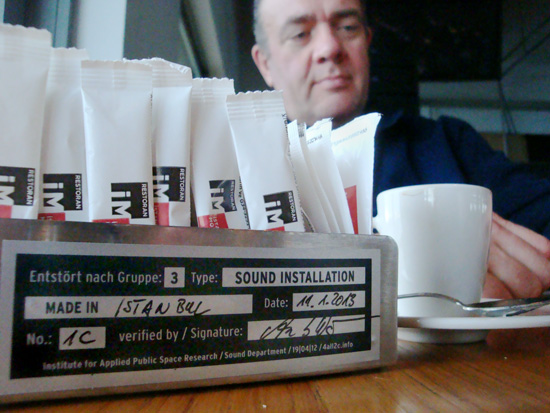 Sound Installation made by Andreas Wagner
, Istanbul, Turkey, 2013

FaM
Frankfurt am Main, Germany, 2012
List of used english, turkish and german tags in 2011:
SOUND INSTALLATION, SES YERLEŞTIRMESI, KLANGINSTALLATION
SOUND CARPET, SES HALI
SES VÜCUT, KLANGKÖRPER
ACOUSTIC COMPONENT, AKUSTISCHE ANLAGE and RESONATOR
Further edition: SOUND BARRIER, SES BARIYER, SCHALLGRENZE
Street sign, black print on neon-magenta cardboard, 2012

Sound Installation made by Wolfgang Liebhart
Faak, Austria, 2014

Lon. 12.818402°E, Lat. 52.1985954°N
14822 Brück, 2012

FaM > DA
Auf dem Weg von FaM nach Darmstadt, 2012

Lon. 28.97220°E, Lat. 41.01827°N
Made by Johannes S. Sistermanns, Istanbul, 2012

Lost position
Istanbul, 2012
Pick of Sound Tags made in Istanbul, 2011

Lat. 41.032589 °N, Lon. 28.976966°E
360° Restaurant and Club-Bar, Istiklal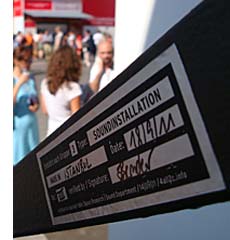 Lat. 41.026932°N, Lon. 28.984442°E
Metal stairs, 12th Istanbul Biennial entrance to Antrepo 5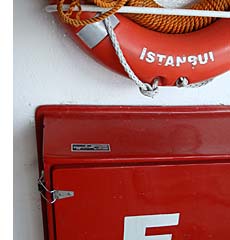 SES VÜCUT
Extinguisher, Uzun Boğaz Turu, Eminönü to A. Kavağı

Lat. 41.031867°N, Lon. 28.975043°E
Toilette, Pera Müzesi
(not photographed: sound installation tag #1 fixed on an air-conditioning-box in the exhibition space)

Lat. 41.032179°N, Lon. 28.974123°E
SES HALI, Terasse in front of the TRT building (Turkish TV Channel)

Lat. 41.033702°N, Lon. 28.978833°E
SOUNDINSTALLATION, Kartal Sokak, nearby Istiklal